Brian Baer, a chemical engineer and founder of Zone Repellents shares his journey and inspirational story behind why and how he got his start in the insect repellent industry.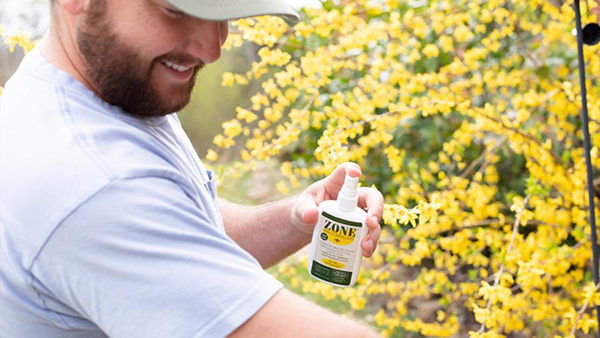 "As a chemical engineer I understand all of the chemical processes involved with creating this type of product, but more importantly—I've got children. We're raising our kids in the South and the mosquito population there is massive.

So, I began conducting research about people in other countries who are unable to provide protection for the children and families who are forced to live outside. As it turns out, globally there are millions of children who die from mosquito bites each year. Literally, millions of children around the world who have no protection—that's where my heart is.

I developed a global outreach program, where customers can purchase and send a discounted case of Zone Repellent to the Red Cross or UNICEF so they can put it in the hands of the kids who need it. One day, we'll be able to send a free case for each case purchased, but we're just not quite there yet.

My vision is to ship pallets to Africa, Indonesia, and South America—every month we'll be dropping Zone Insect Repellent to these places, but in order to achieve that, we have to build the company.

I was inspired by my buddy's dog who kept digging holes in the yard. I wanted to create a new and innovative type of repellent, not just against insects but for other animals too, and as the years passed, we tried implementing various techniques. We created an all-natural insect repellent in 2012 and quickly discovered that completely all-natural doesn't work and in 2017 we got more serious about it.

Our difference in the products is an ingredient called picaridin, which is a synthetic, safe chemical and just as or more effective than DEET. It's been around for about 10-15 years but is just now getting off the ground. It's the best repellent on the market right now and I have to educate the world.

Zone stays active for approximately 12 hours. It's safe and the formulation smells great. You'll have no idea you're wearing insect repellent. Last year, we applied for our EPA registration and began commercial production.

We've got other animal repellents in our line that work great, too. To repel snakes, you'll use Hiss Off! Our product, No Hole prevents dogs and cats from digging holes in the yard. Our wild animal repellent is called Oh Deer! and it repels rabbits and deer when sprayed around the perimeter of a garden, preventing them from harvesting before you do.

We spent a good amount of money on a new website, we've got a listing on Amazon, and we just got into the Home Depot. We also have a subsidiary in Zambia, Africa.

I've found that as a product manufacturer and distributor you have to have business and product liability insurance. I had a 2 million dollar policy, but my contract with the Home Depot required an 8 million dollar limit.

So, I began looking around for insurance in the industry. The carrier I had at the time couldn't meet the requirements I needed and I was worried that I was going to lose Home Depot.

Luckily, I found Veracity online when I searched for beauty product liability, contacted you all, and sure enough, your company was there to help me."
Contact your broker to learn more about product liability insurance. Visit the Zone Repellent website.